BecomeOne Coaching
A Whole New Way to Empower Your Riding

If you're attracted to the HHT approach, then you may be one of those riders who dreams of being able to find perfect unity with your horse in riding... To master a connection that allows you to share with them the elegance, lightness and power of balanced motion.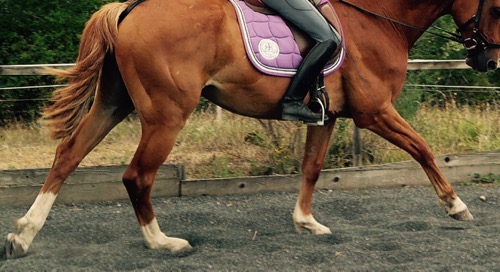 You may have already experienced glimpses of the exquisite oneness it's possible to have with a horse, where the heavy chains of imbalance, insecurity and disharmony fall away to leave both you and your horse liberated and empowered.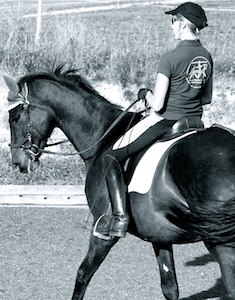 If so, you will know that it's a feeling very few other things in life can compare to.


What other activity allows two such different living beings as horse and human to share their strengths as part of a whole new balance and become one biomechanically connected body?





The Challenge of Correct Riding: The Tough Reality
Many of us who invest the time, hard work and money it takes to keep horses do so because we are passionate about this magical connection that riding has the potential to give us.

But achieving this experience of riding consistently and reliably is a big challenge - there is so much to learn, so many skills to acquire, and such a lot of confusing advice on how to go about it that it can be easy to lose your way.

Often we end up experiencing frustration, discouragement, and lack of confidence a lot more regularly than we experience the exhilaration of when it all comes together.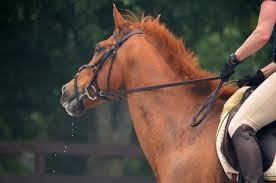 This struggle can quickly overshadow the joy in our connection with the horse, which may become fleeting and uncertain.

Most of us are attracted to riding by the pleasure it can give us, but few of us are getting anywhere near the enjoyment out of it that we could be.

Of course the majority of riders simply get accustomed to the disharmony and lack of balance, and they look for more superficial pleasures - training through conditioning, competition success etc. But if you're someone that feels there's something lacking from 'normal' riding, that it could be so much better, then you're not mistaken!

Even when you're looking for something more, however, conventional riding methods are so lacking in the right advice for helping riders to find a truly balanced connection that it's all too easy to get stuck in a negative cycle where the discouragement you feel from not achieving what we want to with your horse further blocks your connection with them on many levels.

I know this because I've been there myself. I've experienced the utterly disheartening frustration of not knowing how to move forward and start getting positive feedback from the horse, then feeling so bad about letting that frustration cloud my relationship with my horse.

That was a long time ago, and thankfully my determination to capture and understand that wonderful state of gymnastic unity in riding made me keep working towards that goal, and keep avoiding the temptation of going after false appearances, short-cuts and forceful methods.

I now understand the process all riders must go through to find balance with their horse (a gaping hole in conventional riding education) and my passion is to share that understanding with other riders who are seeking it too.

I have explored several ways of doing this already - including writing a book (The Gymnastic Rider), giving residential teaching clinics with specialised teaching of the posture on the lunge, and by traveling to give clinics internationally.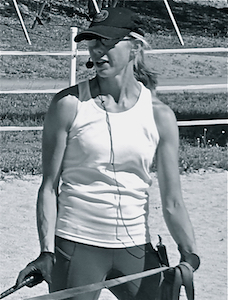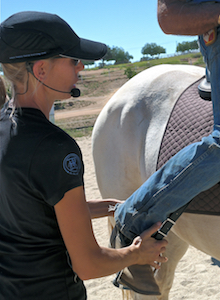 After more than 10 years of working in this way, I've gradually come to the realisation that these methods, although they provide part of the picture, are just not enough for most people to surmount the challenge of becoming a truly skilled rider.


What people need is prolonged, personalised guidance. But guidance that stimulates them to develop the resources that it takes to become an independent and effective rider, instead of keeping them a perpetual learner.


This is why I've created BecomeOne Rider Coaching. I believe it offers a real force for change for riders who want to make the textbook ideals become a reality.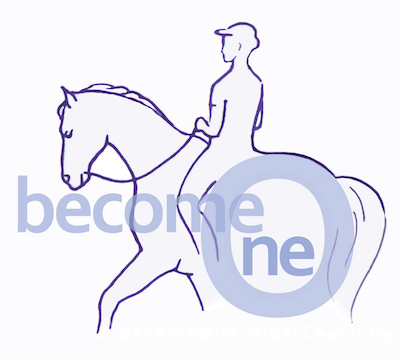 Where to Turn To For The Right Help?
If you're serious about improving your riding and your horse's way of going you probably know that it's a challenge that requires help from a knowledgeable professional.

In riding this usually equates to having regular lessons from an instructor or trainer.

But what if there was another, more holistic way of transforming your riding skills and making profound progress in your horse's training?

Imagine you could receive the kind of guidance that let you develop your riding skill from the inside-out, growing your confidence, independence and feel, whilst keeping your technique on the right track.

Imagine you could have a totally interactive learning experience, where all of your questions, doubts and concerns are listened to and addressed.

How much more enjoyment would you get out of riding if you knew before each session exactly what to work on, and if you started getting consistent improvements?



Coaching: An Incredible Solution for Riders!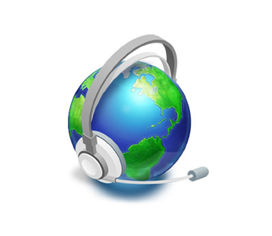 People in all walks of life are discovering the huge benefits that coaching can offer them in moving towards the results they are seeking.

The reason coaching successfully adapts to almost any kind of development - be it personal, business or sporting - is that all achievement comes down to the same three things:

1. having a clear idea of what your goal is
2. knowing what to work on to move towards your goal
3. finding the motivation and determination to keep going for long enough to get there




Riding in a way that connects you and your horse in harmonious unity and empowered balance is a skill that depends on these same capacities.

Becoming an accomplished rider involves a physical (gymnastic) development, of course, but behind that physical process is an essential personal development. As is now understood in professional sports and many other domains that involve surmounting challenges, working on your 'inner game' is the foundation that success is built on. This is where coaching can offer support that normal riding instruction falls short on.

Let's face it, you are lucky enough if you can find riding instruction that focuses on what you are doing as a rider instead of just what the horse is doing, let alone teaching that really engages with you as a person, helping you to resolve your inner limitations and weaknesses.

Coaching is an ideal way for riders to acquire the independence, confidence, awareness and self-discipline that it takes to breakthrough to a profound connection within balanced motion.

When this inner support is combined with a structured process of assessment and education, based on a tested system for developing a biomechanically sound connection with the horse, then it's a formidable formula for moving up to a whole new level of riding.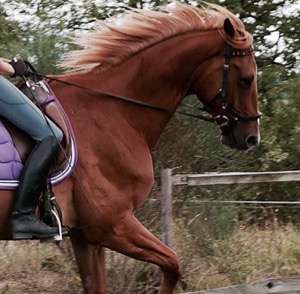 Most riders fail to make real progress because they lack the support they need in working on the right skills for long enough and in a systematic way.
They never break through to getting consistent positive feedback from the horse, and they end up resorting to shortcuts - often involving forceful training techniques which break down horses' health and well-being.
I've created BecomeOne to help those riders who are committed to proving that true harmony and balance is created without constraint and conditioning, but through the power of the posture.



An Investment In the Future of Your Riding...
...and To Preserve the Art of Correct Riding
Postural development stands out from other kinds of physical development because the changes are so deep and long-lasting.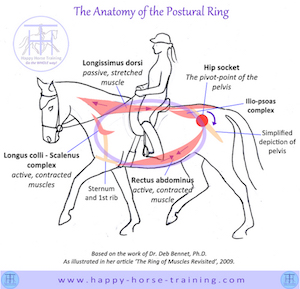 This is something that has been proven over and over again to me by the different horses I've trained on the basis of postural engagement - the training and the positive physical changes it involves never go away, however long the rest periods.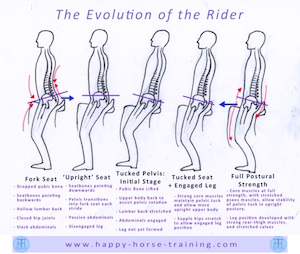 Exactly the same applies to the rider's physical development. I've seen this with students who have acquired postural skills that do not disappear in the same way as normal fitness gets lost, even after extended breaks from riding.


That's why the training process proposed by BecomeOne Rider Coaching is a highly valuable investment for the whole future of your riding activity. It empowers you to transform not only the horse you will work with during coaching, but also any other horse you ride thereafter.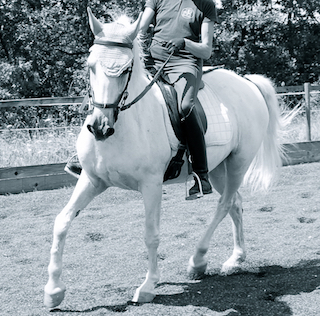 The riding and training skills you will learn are universal to all horses, and the inner resources you will be supported in developing apply to all aspects of your life.


I believe that correct riding is one of the best ways of developing our inner strengths and virtues such as presence of mind, patience, compassion, confidence, perseverance, heightened awareness, the capacity to assert yourself without tension or aggression, and the ability to manifest your desires by mastering your state of being.
The BecomeOne coaching method offers a unique combination of inner development (e.g confidence, mental clarity) and guidance on 'outer' technical skills: developing your seat, posture and other riding skills, plus general training technique.



The Only Interactive and Personalised Distance Learning System for Riders
Online courses for riders are getting increasingly available, which is a good thing for riders who struggle to find a high standard of teaching locally, and who want to avoid the cost and hassle of traveling for regular teaching.

The disadvantage, however, of online/video courses compared to coaching is that there is no, or very little, personal connection between you and the teacher, and therefore none of the precious interaction that is vital to a healthy learning process and to keeping up the motivation to move forward.


How Does Coaching for Riders Work?
Regular coaching is based on a series of sessions where coach and client talk together over the phone. The client, with a clear action plan in hand, works on taking the steps required to make progress between sessions, and this progress as well as any obstacles encountered are discussed in the next session.

It's this accountability, plus regular support and guidance, that makes coaching so powerful for moving towards your goals.

But, you're probably wondering, how is it possible to evaluate and correct someone's riding technique over the phone?

That's why I've designed a system that combines coaching sessions on the phone with video analysis, along with tools to help you apply the methods to your riding.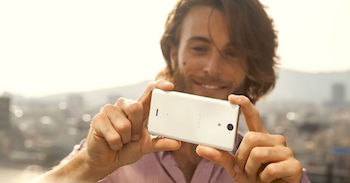 These days it's so easy to take good quality videos with a smartphone that any rider can have someone regularly video their sessions.
This allows me to see what's going on in your riding, study your progress and give you the advice you need to move forwards.
During the coaching sessions we work together through a structured process involving, step-by-step, all the pieces of the puzzle required to unlock the results you are looking for. This process is totally personalized depending on your individual goals and needs.
A Rare Opportunity
Anyone reading this who is familiar with Happy Horse Training's approach to gymnastic riding will know that it is quite a unique understanding of horse-rider biomechanics that is hard to find elsewhere.

This is consistently confirmed by people who travel to our base in France for residential teaching and find breakthroughs with their riding, but fail to find the same kind of teaching when they go back home.

BecomeOne Rider Coaching packages are therefore a precious opportunity to get direct, one-to-one access to this uncommon understanding of riding wherever you live, while working with your own horse, and over a duration of time that allows you to really get results and make permanent changes in your technique.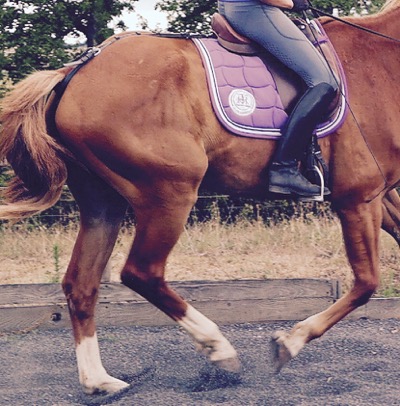 A First Step To Discover Coaching
The coaching packages I've designed are an investment that reflects the commitment required to become a skilled rider. I understand, though, that coaching for riders is a new concept that many may be unfamiliar with. That's why I've created a mini-package as an introduction to this way of learning and progressing.

The BecomeOne Balance Analysis is a holistic evaluation of your connection with your horse on the three essential levels of mind, body and spirit.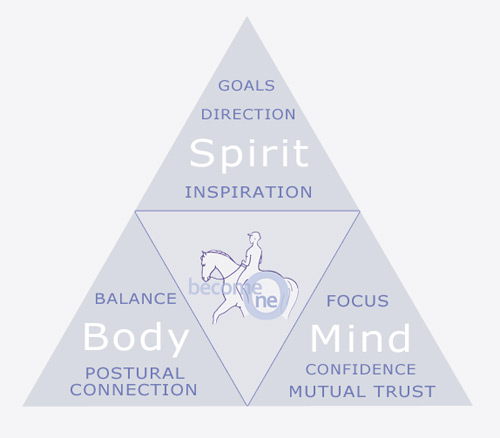 Just like in my other coaching packages, you provide me with a video of your riding, which I analyze to find out the balance dynamic of your riding.

We then have a Breakthrough to Balance session over the phone to help you get clear on your goals and what may be holding you back from them.

I sum up the holistic diagnosis as your Unique Riding Challenge - that is, the particular configuration of elements you need to work on in order to move towards a deep and balanced connection with your horse, sent to you in a written report.

The session included in the Balance Analysis also allows you to speak with me directly about what coaching could do for you, and get answers to any questions you my have about working with me.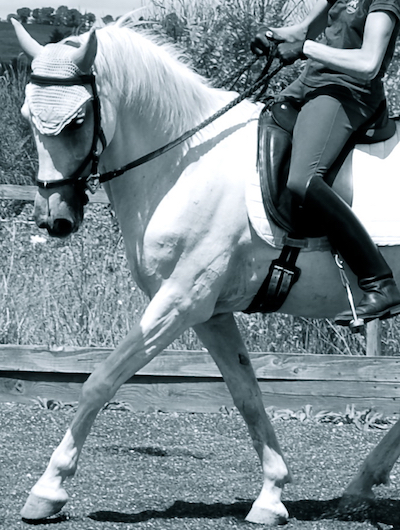 ***Special Springtime Offer!***
At the moment the Balance Analysis is available on a fantastic springtime offer to get your riding off to a whole new start this year!
Check out the details and make your booking here: BecomeOne Balance Analysis


I invite you to explore the BecomeOne website, and please feel free to contact me with any questions or feedback at gabrielle@becomeone-ridercoaching.com

---
---


Enjoy this newsletter? Click here to share it on Facebook:




Happy Horse Training now has Google +1 and Pinterest Pinit buttons! If you enjoy the site, please click to help us share it.


The HHT group on Facebook is growing, join in!



See and share topical news, info and photo's on the Happy Horse Training Facebook group. Once you join you can take part in lively, friendly discussion on subjects relevant to holistic equitation, and make contact with like-minded people all over the world.

Just Click here to go to the HHT group page, and then click on the 'join group' button at the top right of the page.

---
Sharing the Holistic Message
If you enjoy the Happy Horse Training website, and you find the information on it useful, please help us to share it by clicking on the Facebook 'like' and 'share' buttons that are on each page (you can also share this newsletter by clicking on the symbol above). Any other way you can pass the site on to friends and colleagues, for example via discussion forums, is also greatly appreciated.
You can also sign up to our RSS feed (blog) to be kept up to date with new ideas, pages and other information that we post there. Just click on the box that says 'subscribe to this site' at the left of each page.
The equestrian world is one dominated by traditionalist ideas and conventions, but we would like to help inform the growing minority of horse-owners who want to make their horses happier with progressive and holistic methods.
Happy Horse Training now has over 100 pages exploring many different areas of holistic equitation. Do have a look through our site plan to find the subjects and categories that interest you.


---




Available from HHT:




The Gymnastic Rider eBook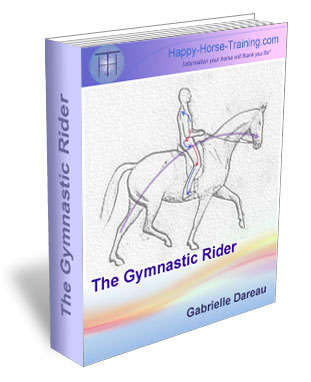 Available exclusively from HHT, a unique and comprehensive guide to practical rider biomechanics. This professionally produced eBook takes the rider through the process of developing their body in the specific way that brings the horse's movement into harmony and balance, without force and constraint.

The information in this book, including over 55 000 words, represents what we would normally pass on in a minimum of 12 specialist lunge lessons, focusing on each part of the position and its influence on the horse, with a value of at least €450. The Gymnastic Rider is available for only €29.99.

Click here for full details, and to download the 15-page introduction to the book for free.




How to Train a Horse Without Force eBook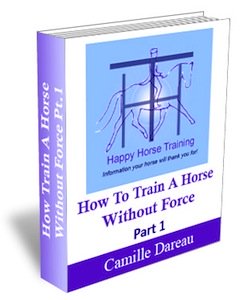 The first part in HHT's Training series, this unusually profound and well-written e-book gives a unique holistic understanding of training horses, from the very first contact with a young horse, through to a thoroughly explained method of lunging, that is beneficial for any horse, not just in preparation for first riding, but at any stage of training.
With your purchase you will receive a free bonus supplement on Horse Trauma - cutting edge insights on this subject that up until now have mostly been applied only to human trauma. This supplement shows how to recognise, avoid and deal with horse trauma, which is much more common that we realise.
These two e-books - How to Train a Horse Without Force and Horse Trauma comprise more than 75 thousand words and are richly illustrated. They are available for only 19.99 Euros (around $26). Click here for more details.





Other HHT Products:
The Simple Seven-Step Natural Trim eBook

Learn how to perform the ideal barefoot trim with this comprehensive how-to guide.


---