New From HHT: AudioRide
A Riding Instructor In Your Pocket!

Just in time for Christmas, Happy Horse Training is offering you a new level of training assistance. AudioRide allows you to have your training manual right there while you are riding!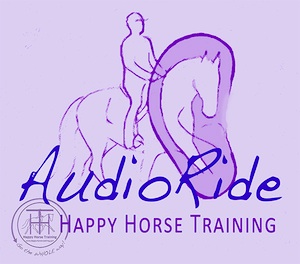 And it's not just any training manual! It's one of the most comprehensive and practical guides available to riding a horse in the way which truly connects you to the horse's movement.
AudioRide is a series of exercises recorded as audio descriptions, which are designed to listen to as you ride.
Three digital albums take you though each step of building your position, for a balanced and effective postural connection with the horse.


An Audio Accompaniment to the Gymnastic Rider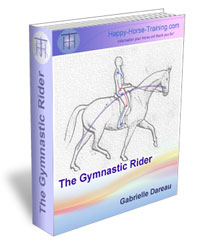 We have received numerous testimonials about Gabrielle's book, The Gymnastic Rider, and the common denominator is always how INSTRUCTIVE it is.

There are many books about how to ride, but very few present the kind of specific instruction about what to do with your body when you ride provided in The Gymnastic Rider.

Now we have taken these instructions and transformed them into exercises which are both illuminating and engaging. The series of exercises takes you step by step through the necessary postural development that enables you to ride your horse without force or frustration.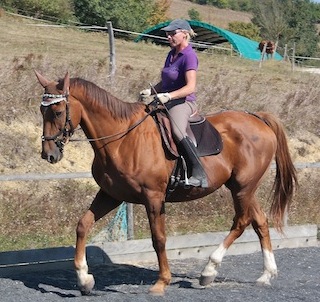 Our passion is riding based on postural engagement - the magical feeling of becoming one with the horse's power while the movement flows through both of you in perfect balance and freedom.

Most riders may only feel glimpses of this connection with the horse, because in riding there are a-hundred-and-one ways to take a wrong turning in your technique and miss out on this whole realm - especially when traditional riding instruction so often gives the wrong advice.

If you dream of riding in TRUE harmony with your horse, without having to rely on harsh bits and spurs to get a good feeling, and without using either force or trick-training to communicate with your horse, then AudioRide and The Gymnastic Rider method are for you.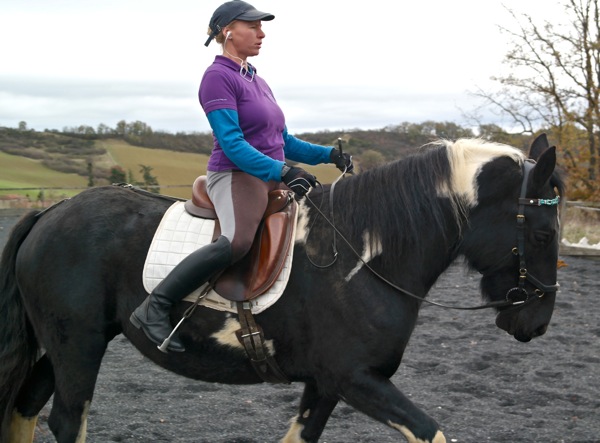 Although AudioRide does not specifically target your own riding, as in a real lesson, there are actually certain advantages to this:

1) AudioRide is 100% controllable - you can repeat, pause and listen again as many times as you need to.

2) You are able to fully relax in your mind, not worrying about anything but the voice in your ear. Your performance is entirely your own business!

3) Time is on your side, you can listen day after day whenever you like, with no worries about getting the most out of your rare lessons.

4) The more impartial nature of the tapes actually has more of an effect of aligning YOU with correct riding, rather than continually focusing on your own personal faults.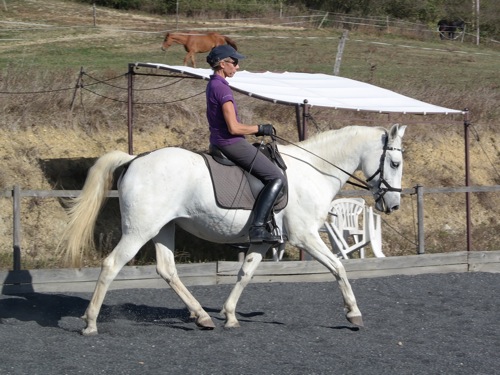 ★ We are planning a whole series of audio albums designed to be used either independently or in conjunction with the HHT ebooks already available on the site

★ Coming out first is the AudioRide Gymnastic Rider series which addresses rider posture in every detail, as well as how to apply that posture to straighten and engage your horse!

★ The voices are our own - Camille and Gabrielle Dareau. They are clear and concise instructions, easy to follow while getting to the heart of each aspect of how to ride. The recordings are professional quality, and available as mp3 files, which are flexible and easy to use.

★ When you buy AudioRide, you can download the mp3 albums straight away - simply drag them onto your device and you can start listening.

★ All you need is an mp3 player (e.g. an ipod, smartphone or other mp3 device) and a pair of secure earphones, and you're ready to go!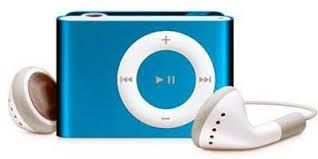 Try The Introductory Exercise For Free!


We are offering this free download 'Riding In The Now', which helps you to create the right state of mind at the beginning of your riding session.

Our approach to riding is all about combining feel with a specific postural development that connects you with the horse in a profound gymnastic interaction.

We can only develop this feel and connection when we stay in the 'now' - in the present moment - when we ride. This is where we can grow a greater awareness of our own body, the horses body, and the dynamics of movement that connect them in riding.

This exercise shows you how to center your mind in this way, before moving onto the more physical exercises of the AudioRide course.

For full details of HHT AudioRide, and to get your free download, click here
---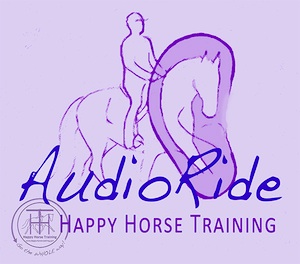 ---
---


Enjoy this newsletter? Click here to share it on Facebook:




Happy Horse Training now has Google +1 and Pinterest Pinit buttons! If you enjoy the site, please click to help us share it.


The HHT group on Facebook is growing, join in!

See and share topical news, info and photo's on the Happy Horse Training Facebook group. Once you join you can take part in lively, friendly discussion on subjects relevant to holistic equitation, and make contact with like-minded people all over the world.
Just Click here to go to the HHT group page, and then click on the 'join group' button at the top right of the page.

---
Sharing the Holistic Message
If you enjoy the Happy Horse Training website, and you find the information on it useful, please help us to share it by clicking on the Facebook 'like' and 'share' buttons that are on each page (you can also share this newsletter by clicking on the symbol above). Any other way you can pass the site on to friends and colleagues, for example via discussion forums, is also greatly appreciated.
You can also sign up to our RSS feed (blog) to be kept up to date with new ideas, pages and other information that we post there. Just click on the box that says 'subscribe to this site' at the left of each page.
The equestrian world is one dominated by traditionalist ideas and conventions, but we would like to help inform the growing minority of horse-owners who want to make their horses happier with progressive and holistic methods.
Happy Horse Training now has over 100 pages exploring many different areas of holistic equitation. Do have a look through our site plan to find the subjects and categories that interest you.


---




Available from HHT:




New! The Gymnastic Rider eBook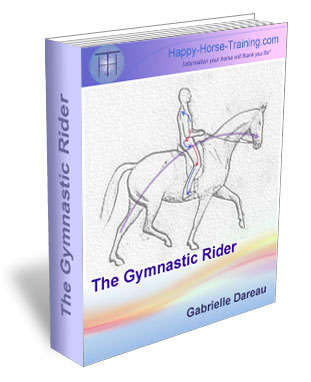 Available exclusively from HHT, a unique and comprehensive guide to practical rider biomechanics. This professionally produced eBook takes the rider through the process of developing their body in the specific way that brings the horse's movement into harmony and balance, without force and constraint.

The information in this book, including over 55 000 words, represents what we would normally pass on in a minimum of 12 specialist lunge lessons, focusing on each part of the position and its influence on the horse, with a value of at least €450. The Gymnastic Rider is available for only €29.99.

Click here for full details, and to download the 15-page introduction to the book for free.




How to Train a Horse Without Force eBook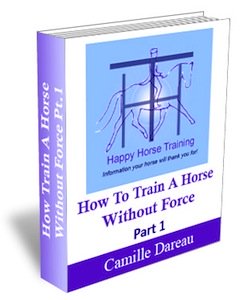 The first part in HHT's Training series, this unusually profound and well-written e-book gives a unique holistic understanding of training horses, from the very first contact with a young horse, through to a thoroughly explained method of lunging, that is beneficial for any horse, not just in preparation for first riding, but at any stage of training.
With your purchase you will receive a free bonus supplement on Horse Trauma - cutting edge insights on this subject that up until now have mostly been applied only to human trauma. This supplement shows how to recognise, avoid and deal with horse trauma, which is much more common that we realise.
These two e-books - How to Train a Horse Without Force and Horse Trauma comprise more than 75 thousand words and are richly illustrated. They are available for only 19.99 Euros (around $26). Click here for more details.





Other HHT Products:
The Simple Seven-Step Natural Trim eBook

Learn how to perform the ideal barefoot trim with this comprehensive how-to guide.


---