Are you riding for authentic balance
...or relying on compensations?
In riding there are so many ways we can influence (or seemingly influence) the horse's balance that it can be hard to know if we're really finding an authentic balance, or if there are insidious crutches in place between us and the horse, holding things together and covering up for basic imbalance.
---

The fact is that if we want to access the joy of connecting with the horse's power and grace in true balance, then we absolutely must let go of these crutches in order to address the many forms of imbalance in riding at their source, and be liberated from them.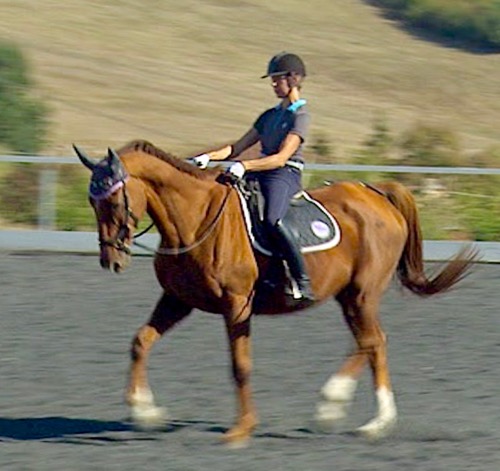 Yielding the contact in a forward trot without any loss of balance


Fortunately there are some very simple ways to test for an authentic balance, and they all involve letting go of holding on with the reins! Because that's the key difference between true balance and 'fake' balance that relies on compensations: true balance (both in our own body and that of the horse) does NOT disappear when we release the horse's front end! It stays in place, because it is supported by the posture.
That doesn't mean the posture will stay the same - on the contrary, it is free to flow, stretch, relax - but the QUALITY of balance in the movement will remain.
I created an eBook to help riders use three simple exercises to test what is really going on with their horse's balance and their own in riding, with easy-to-use checklists, and it also provide lots of pointers to set about improving things if you need to!
You can get it free from the BecomeOne Academy website, the home of my up-coming online course:
The Authentic Balance Acid Test free ebook
---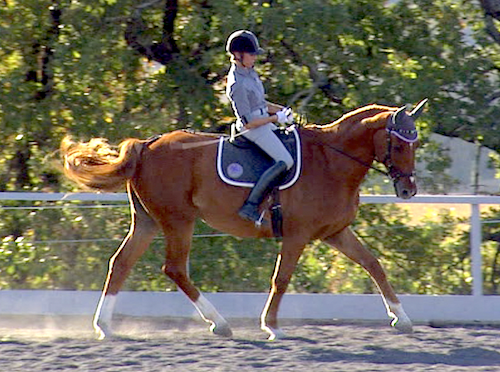 A powerful trot on the contact with very good hindleg engagement

---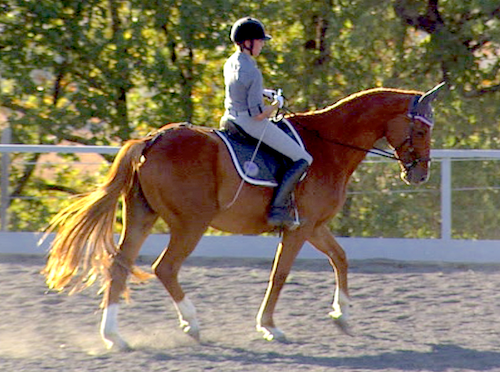 A more collected trot - not easy for this eventer, bred for galloping across country and jumping huge obstacles!

---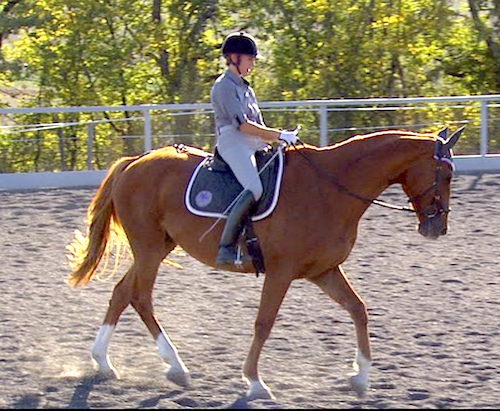 And yielding out the contact in both reins - no loss of balance, bend or engagement.
---
You can watch a video clip demonstrating shoulder-in work without relying on the 'crutch' of the outside rein here:
Authentic Shoulder-In - no cheating!


---
Find out about The BecomeOne Academy online course for learning the postural riding connection, coming soon!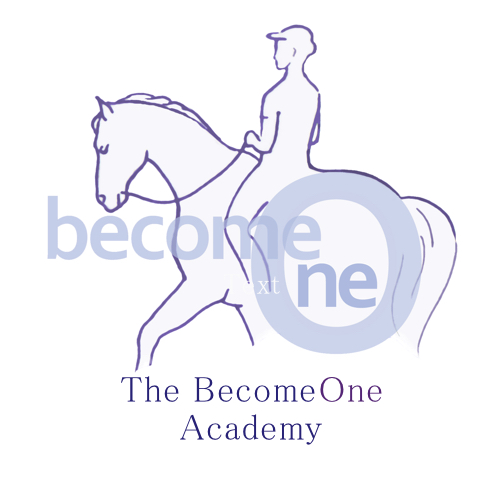 ---
---

A Bientôt!

Gabrielle Dareau






---
---
---


Enjoy this newsletter? Click here to share it on Facebook:




Happy Horse Training now has Google +1 and Pinterest Pinit buttons! If you enjoy the site, please click to help us share it.


The HHT group on Facebook is growing, join in!

See and share topical news, info and photo's on the Happy Horse Training Facebook group. Once you join you can take part in lively, friendly discussion on subjects relevant to holistic equitation, and make contact with like-minded people all over the world.
Just Click here to go to the HHT group page, and then click on the 'join group' button at the top right of the page.

---
Sharing the Holistic Message
If you enjoy the Happy Horse Training website please help us to share it by clicking on the Facebook 'like' and 'share' buttons that are on each page (you can also share this newsletter by clicking on the symbol above). Any other way you can pass the site on to friends and colleagues, for example via discussion forums, is also greatly appreciated.
You can also sign up to our RSS feed (blog) to be kept up to date with new ideas, pages and other information that we post there. Just click on the box that says 'subscribe to this site' at the left of each page.
The equestrian world is one dominated by traditionalist ideas and conventions, but we would like to help inform the growing minority of horse-owners who want to make their horses happier with progressive and holistic methods.
Happy Horse Training now has over 100 pages exploring many different areas of holistic equitation. Do have a look through our site plan to find the subjects and categories that interest you.


---




Available from HHT:




The Gymnastic Rider eBook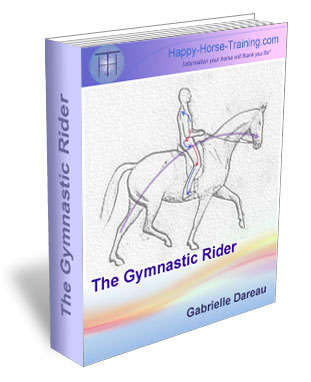 Available exclusively from HHT, a unique and comprehensive guide to practical rider biomechanics. This professionally produced eBook takes the rider through the process of developing their body in the specific way that brings the horse's movement into harmony and balance, without force and constraint.

The information in this book, including over 55 000 words, represents what we would normally pass on in a minimum of 12 specialist lunge lessons, focusing on each part of the position and its influence on the horse, with a value of at least €450. The Gymnastic Rider is available for only €29.99.

Click here for full details, and to download the 15-page introduction to the book for free.




How to Train a Horse Without Force eBook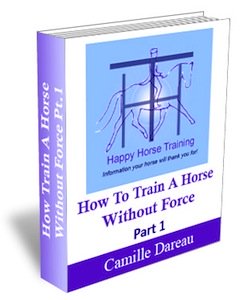 The first part in HHT's Training series, this unusually profound and well-written e-book gives a unique holistic understanding of training horses, from the very first contact with a young horse, through to a thoroughly explained method of lunging, that is beneficial for any horse, not just in preparation for first riding, but at any stage of training.
With your purchase you will receive a free bonus supplement on Horse Trauma - cutting edge insights on this subject that up until now have mostly been applied only to human trauma. This supplement shows how to recognise, avoid and deal with horse trauma, which is much more common that we realise.
These two e-books - How to Train a Horse Without Force and Horse Trauma comprise more than 75 thousand words and are richly illustrated. They are available for only 19.99 Euros (around $26). Click here for more details.





Other HHT Products:
The Simple Seven-Step Natural Trim eBook

Learn how to perform the ideal barefoot trim with this comprehensive how-to guide.


---