Introducing Djinnie And Quaramba: A Level Playing Field
---
Spotlight On Training
In the last two weeks two 6 months old foals, Djinnie and Quaramba, have arrived at Happy Horse Training in France.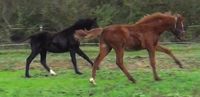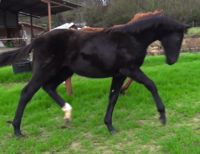 Quaramba (chestnut) is an Oldenburg filly by Quaterback (photo below, left), and Djinnie (black) is a Hanoverian filly by Dancier (photo below, right).



These fillies are the first horses we have ever chosen for their excellent breeding and prospective talent. Up until now we have taken on whichever horses came to us, and with their problems and difficulties they have been our greatest teachers.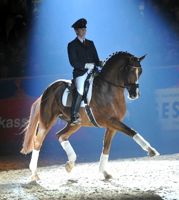 We have always dreamed of having something closer to our 'dream horse' to ride and train one day, like just about every horse person, and that is one reason for the arrival of the girls. We had the chance of being in the right place at the right time, so they were purchased relatively inexpensively considering their bloodlines.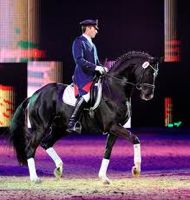 The other, perhaps more important, reasons are that we want to compare the training of these fillies, who are made to move easily and beautifully, with the training of more ordinary, conformationally challenged horses. We want to understand more about the relative influence of temperament and physique.

It is also important for us to be able to stand up for our training ideals on a level playing field. We want to see for ourselves why horses which are made so beautifully are so often subjected to such abuses as rollkür and force with spurs and double bridles. Why has the passage nowadays mutated into such a bizarre jerking dance, for example, is this a necessity with the super-horse of today, or is it too difficult to ride such athletic horses without hanging on?

The progress of the fillies will be recorded on the website stage by stage.


---




Spotlight On Training



The gradual integration of Djinnie and Quaramba into the main herd and their subsequent herd-life will be documented for the HHT website.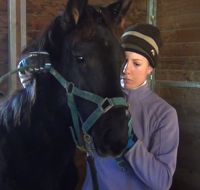 They will have the same freedom and social opportunities as the other horses, and will hopefully illustrate the value of such a life for all performance horses.


So far they have been learning basic handling - and making friends with the pigs!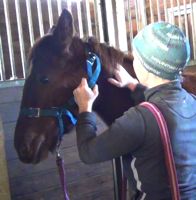 Quaramba was rejected by her mother at birth and accepted straight away by another mare and her foal. Leaving her adopted mother and sister has already left her somewhat resentful of people and what they represent. Djinnie has a very open, friendly perspective on life, and already gentle handling and Djinnie's friendship are helping Quaramba to relax and accept people.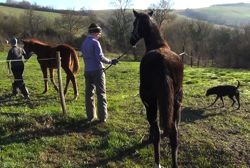 ---
***
Happy Horse Training wishes all of our subscribers and their horses a fulfilling and successful year in 2012!
***
---



New pages on HHT:

Going Barefoot: Seven Steps for Success
Equine Back Problems
Imperfect Horse Conformation
Rider Health: Fitness and Healing
Pilates for Riders: The Postural Advantage



---
Click here to visit Happy Horse Training
New!

Comments Anything to say about this page? Leave your comment in the box below.