HHT's Holistic Warmblood Fillies: Training Begins!
This summer our 100% holistic warmblood fillies - Djinnie, a black Hanoverian, and Quaramba, a chestnut Oldenburg, started their training. They are in their third year, and they have needed all of their time up until now for physical growth and developing their social skills within the herd.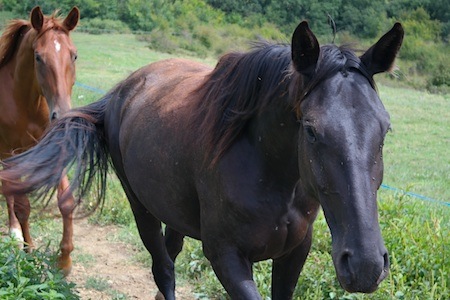 What we mean by 100% holistic is that the lifestyle they have been exposed to with us has been aligned with their true needs as fully we can make it so. We have experienced that forced weaning is not necessary, but unfortunately they were both weaned at six months because they came from a stud farm with conventional practices.
Seeking the best for horses is a continuous journey, it is a process of recognizing the limitations in our own minds and letting them go. For example, looking back to when the two foals came to us, now we would have integrated them with the herd straight away.

At that time we chose to keep them in a separate field together and bring them into a large stable together at night.

Our motivations for that were probably more fear-based than love-inspired.

We were worried they would be injured or unprotected in the weather, instead of believing in the wisdom of the herd and the resilience of the foals.

Everything is a learning process, and part of becoming aware of the best option is to lack the courage to take it initially.
When we did introduce them to the herd in the spring, we realized how much they needed the older horses and the security of the herd environment, and they flourished.

They were also readily accepted into the hierarchy without the same initial rejection process that older horses joining the herd usually have to go though.

We have seen how their feet have strengthened and developed into beautiful solid and functioning foundations for their bodies, healthy from the inside out.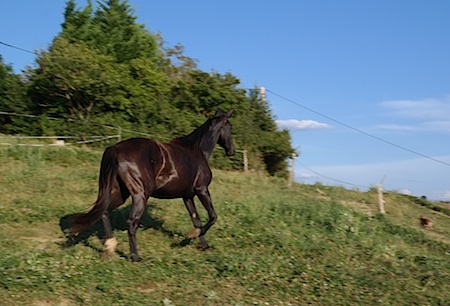 They have become tough in their limbs so that galloping down muddy slopes and rocky, rough ground is nothing to them. Their coat is resilient, shiny and impervious to the weather.
They have no anxieties about leaving the other horses because they are never forcibly separated, and they have never known the frustration and despair associated with solitary confinement in a stable.

Their systems are undamaged by pharmaceutical drugs or vaccinations, and it shows in the quality of their digestion, wind and immune systems.
These are all progressions we have made from doing things the traditional 'wrong' way. In some cases we followed conventional 'intensive' practices, because we didn't know any different, and then we could see first hand the negative effects.

Using rugs, stabling horses, separating them into smaller and smaller groups: all of those things took their toll.
The two fillies are fortunate to have had the best we can offer at this time. They have a communal herd-life all of the time, including constant access to hay or hill grass. They are barefoot and rug-less and eating high quality, low cereal, low processed feed to supplement their forage.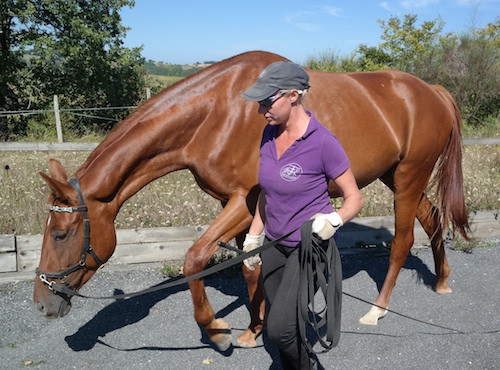 Interestingly we have found that understanding the horses' needs has come about largely through how they respond to us in their training. Working with relaxed and receptive horses is essential to be able connect with them in a way that allows them to give you their body in trust and confidence.
The same principles apply in training and management, working with tense/switched-off horses requires the use of force, and the vicious circle continues.

So learning what management practices horses need to allow them to be happy and relaxed to work with was the key to understanding the positive, holistic circle.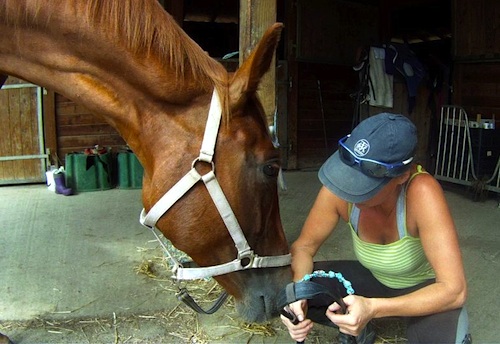 We are videoing regularly the youngsters' work sessions so that we can share their progress, and let people see training development without tension, forceful practices or external constraints. We will share this progress via Djinnie and Quaramba's own section of the HHT website and from our Facebook group.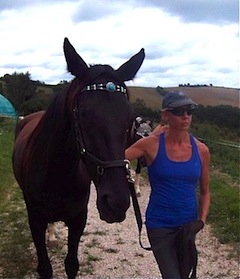 We are excited to see how they come on, partly because we have never worked with horses brought on from the very start in a 100% holistic way, and partly because they are also the first purpose-bred 'talented' dressage horses we have worked with.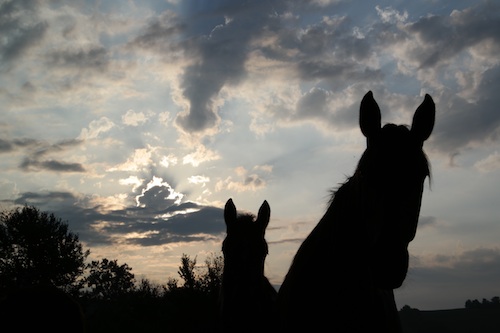 ---
---


Enjoy this newsletter? Click here to share it on Facebook:




Happy Horse Training now has Google +1 and Pinterest Pinit buttons! If you enjoy the site, please click to help us share it.


The HHT group on Facebook is growing, join in!

See and share topical news, info and photo's on the Happy Horse Training Facebook group. Once you join you can take part in lively, friendly discussion on subjects relevant to holistic equitation, and make contact with like-minded people all over the world.
Just Click here to go to the HHT group page, and then click on the 'join group' button at the top right of the page.

---
Sharing the Holistic Message
If you enjoy the Happy Horse Training website, and you find the information on it useful, please help us to share it by clicking on the Facebook 'like' and 'share' buttons that are on each page (you can also share this newsletter by clicking on the symbol above). Any other way you can pass the site on to friends and colleagues, for example via discussion forums, is also greatly appreciated.
You can also sign up to our RSS feed (blog) to be kept up to date with new ideas, pages and other information that we post there. Just click on the box that says 'subscribe to this site' at the left of each page.
The equestrian world is one dominated by traditionalist ideas and conventions, but we would like to help inform the growing minority of horse-owners who want to make their horses happier with progressive and holistic methods.
Happy Horse Training now has over 100 pages exploring many different areas of holistic equitation. Do have a look through our site plan to find the subjects and categories that interest you.


---




Available from HHT:




New! The Gymnastic Rider eBook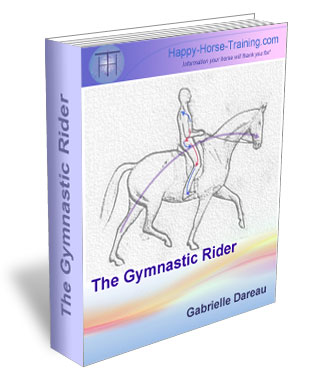 Available exclusively from HHT, a unique and comprehensive guide to practical rider biomechanics. This professionally produced eBook takes the rider through the process of developing their body in the specific way that brings the horse's movement into harmony and balance, without force and constraint.

The information in this book, including over 55 000 words, represents what we would normally pass on in a minimum of 12 specialist lunge lessons, focusing on each part of the position and its influence on the horse, with a value of at least €450. The Gymnastic Rider is available for only €29.99.

Click here for full details, and to download the 15-page introduction to the book for free.




How to Train a Horse Without Force eBook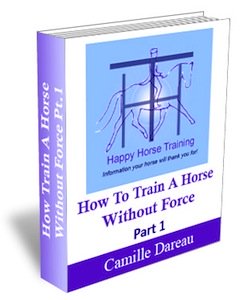 The first part in HHT's Training series, this unusually profound and well-written e-book gives a unique holistic understanding of training horses, from the very first contact with a young horse, through to a thoroughly explained method of lunging, that is beneficial for any horse, not just in preparation for first riding, but at any stage of training.
With your purchase you will receive a free bonus supplement on Horse Trauma - cutting edge insights on this subject that up until now have mostly been applied only to human trauma. This supplement shows how to recognise, avoid and deal with horse trauma, which is much more common that we realise.
These two e-books - How to Train a Horse Without Force and Horse Trauma comprise more than 75 thousand words and are richly illustrated. They are available for only 19.99 Euros (around $26). Click here for more details.





Other HHT Products:
The Simple Seven-Step Natural Trim eBook

Learn how to perform the ideal barefoot trim with this comprehensive how-to guide.


---