How Energy Work Has Shaped Our Perspective


Much of our understanding of the biomechanics of riding and training, both in the rider and the horse has been made accessible to us through the whole 'other world' of alternative therapy. At first it did seem like a parallel world, but over time, like threads in a tapestry, it has become woven into what we do, and has transformed our entire approach - not only the biomechanics of training, but our entire relationship with the horse.


The way we humans think intellectually has made us more likely to view the different aspects of our lives as separate. Maybe we do that to help us feel more in control of our lives, but it can prevent us from seeing the beautiful ways everything works together. In fact looking for the parallels is a much more fulfilling way to live. Just like looking at the whole horse to understand why there is an illness or a behavioral issue is far more revealing than blindly following individual symptoms.
The main thing that our exposure to energy work has given us is a greater awareness of energy itself. Everything is energy, and when you practice enhancing your senses to be able to perceive it, it is like seeing down below the surface of the sea. There is a whole world underneath, which is the real world. When we restrict ourselves to the surface, we only see the occasional glimpse - a fish jumping, or a sharks fin - not enough to reveal the depth of that incredible other world.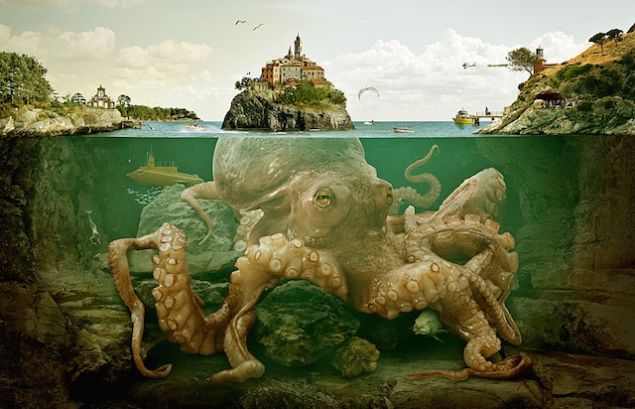 Painting by Gediminas Pranckevicius


When we first became interested in energy work, CranioSacral Therapy specifically, firstly we became aware of the healing intelligence within our own bodies. We realized that it is all moving in there! - on so many different levels, and the best of it is, we don't need to be unaware of it. We can feel it!
- We can feel emotions and their origin - We can feel energy states which are behind our self-image - We can feel the actual process of healing: the acknowledgement and the shift - We can feel all kinds of physical processes, damage and growth
In fact, there is nothing we can't feel if we choose to with our whole mind.
Gradually we began to extend this insight to the horses - we realized that the same awareness is possible not only in oneself, but of another being. We could begin to feel how our horses were feeling!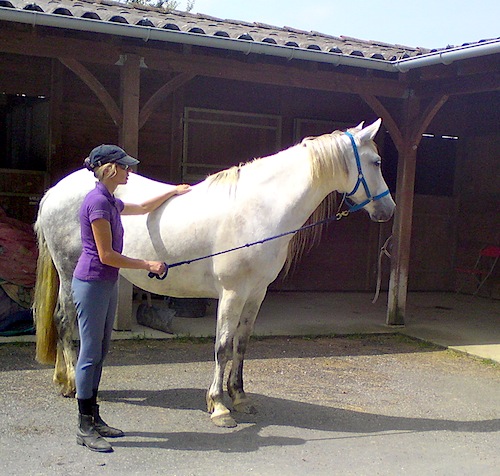 Of course it is essential to remember not only is there incredible complexity in this energy world, there is also whatever filter we see things through in terms of our own limitations and fears about life. Therefore this kind of awareness is not some kind of black and white factual map of everything that exists. The whole point is not to attempt to reduce it down to bare, incontestable facts. That doesn't mean that the truth isn't there in all of it's vibrant brilliance, but truth is a living, breathing being. We almost have to expand ourselves enough to be able to appreciate it.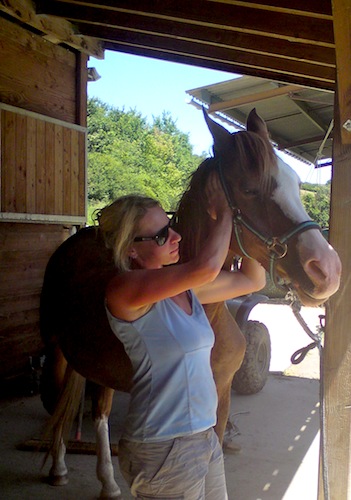 Over time improving our ability to 'read the energy' has revealed, bit by bit, the 'whole' picture. We know we are only scraping the surface and that there is no limit to the creativity when you choose to hear it.


Insights that energy work has given us:

* We have felt the damaging effects of pharmaceutical products and vaccinations. The 'shutting down' feeling in the horse's system which comes from antibiotics, the poisoning effect of synthetic de-wormers for example. This is not imagination, it is just another way of measuring the world around us.

* Feeling the energy of a horse makes it easier to know where they are in themselves. Whether they are going through a healthy detoxification process, or whether they are unwell. You can tell more clearly what their choices are, for example, whether or not they are ready to go when they are old.

* Understanding how energy works gives an understanding of process. Healing is a process, training is a process. Allowing the process to unfold, and learning how to support but not interfere with it has been fundamental to our approach - focusing on the means and not the end.

* A heightened sense of 'feel' is a wonderful thing in riding. It allows the rider to gauge better how much the horse can give and in what way the rider is interfering. It means you can be honest about causing a horse discomfort with severe bits and spurs, because you can feel the inauthenticity of the result. It makes sense of the horses natural crookedness and whether you are correcting or compensating for it.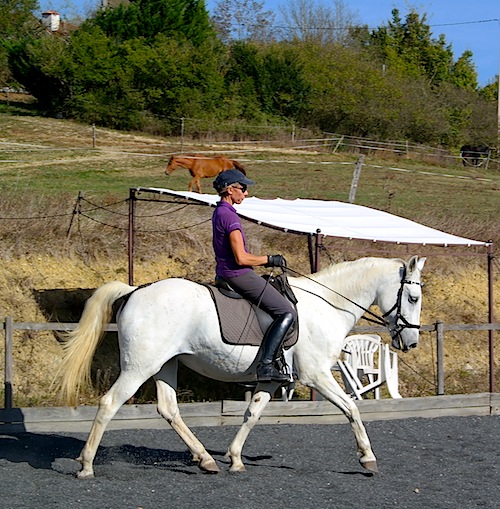 Above all, this heightened perception in riding allows us to connect to and feel clearly the flow of transmission through the horse's body, created by balanced movement in postural engagement. This is the only true proof of gymnastically sound riding, above and beyond any superficial criteria.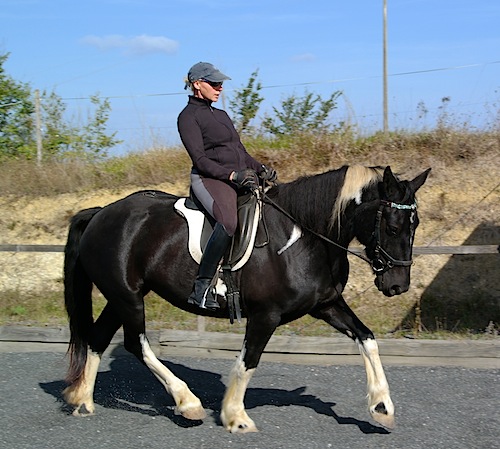 This energy language is available to whoever chooses to open themselves to it. It does take time for most people to develop the ability - you have to make new connections in your central nervous system after all, but it is not an exclusive club. It is only remembering what we have forgotten.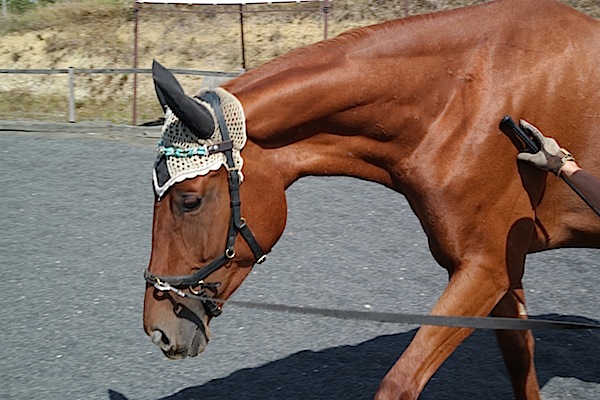 When you open the door to this world it is like going from black and white to colour. From one dimension into three. It is the real language of the horse, and nothing else can bring you closer to them.
---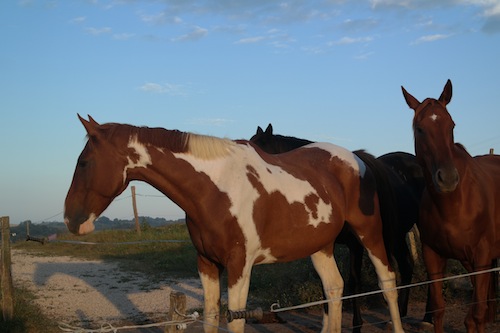 ---
---


Enjoy this newsletter? Click here to share it on Facebook:




Happy Horse Training now has Google +1 and Pinterest Pinit buttons! If you enjoy the site, please click to help us share it.


The HHT group on Facebook is growing, join in!

See and share topical news, info and photo's on the Happy Horse Training Facebook group. Once you join you can take part in lively, friendly discussion on subjects relevant to holistic equitation, and make contact with like-minded people all over the world.
Just Click here to go to the HHT group page, and then click on the 'join group' button at the top right of the page.

---
Sharing the Holistic Message
If you enjoy the Happy Horse Training website, and you find the information on it useful, please help us to share it by clicking on the Facebook 'like' and 'share' buttons that are on each page (you can also share this newsletter by clicking on the symbol above). Any other way you can pass the site on to friends and colleagues, for example via discussion forums, is also greatly appreciated.
You can also sign up to our RSS feed (blog) to be kept up to date with new ideas, pages and other information that we post there. Just click on the box that says 'subscribe to this site' at the left of each page.
The equestrian world is one dominated by traditionalist ideas and conventions, but we would like to help inform the growing minority of horse-owners who want to make their horses happier with progressive and holistic methods.
Happy Horse Training now has over 100 pages exploring many different areas of holistic equitation. Do have a look through our site plan to find the subjects and categories that interest you.


---




Available from HHT:




The Gymnastic Rider eBook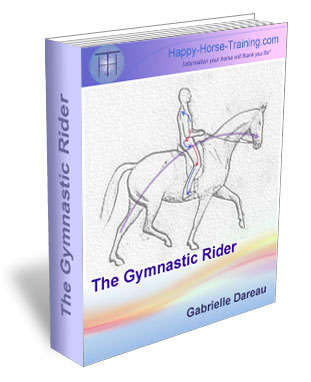 Available exclusively from HHT, a unique and comprehensive guide to practical rider biomechanics. This professionally produced eBook takes the rider through the process of developing their body in the specific way that brings the horse's movement into harmony and balance, without force and constraint.

The information in this book, including over 55 000 words, represents what we would normally pass on in a minimum of 12 specialist lunge lessons, focusing on each part of the position and its influence on the horse, with a value of at least €450. The Gymnastic Rider is available for only €29.99.

Click here for full details, and to download the 15-page introduction to the book for free.




How to Train a Horse Without Force eBook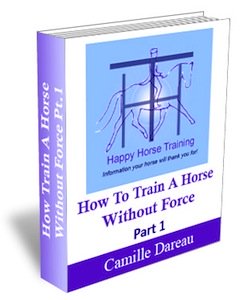 The first part in HHT's Training series, this unusually profound and well-written e-book gives a unique holistic understanding of training horses, from the very first contact with a young horse, through to a thoroughly explained method of lunging, that is beneficial for any horse, not just in preparation for first riding, but at any stage of training.
With your purchase you will receive a free bonus supplement on Horse Trauma - cutting edge insights on this subject that up until now have mostly been applied only to human trauma. This supplement shows how to recognise, avoid and deal with horse trauma, which is much more common that we realise.
These two e-books - How to Train a Horse Without Force and Horse Trauma comprise more than 75 thousand words and are richly illustrated. They are available for only 19.99 Euros (around $26). Click here for more details.





Other HHT Products:
The Simple Seven-Step Natural Trim eBook

Learn how to perform the ideal barefoot trim with this comprehensive how-to guide.


---