Just in time!
Happy New Year from HHT!

Here in France the tradition goes that you have the whole month of January to offer your new year's greetings... well I left it to the very last minute this year, so sorry about that!
But I hope your year has got off to a great start, and I wish you a successful, fulfilling and above all happy 2019!

Licia with New Year apples for the herd :)

---
Exciting News!
Part of the reason I was late with new year's greetings is that I've been working hard on an exciting new project. Later this year I will be opening the doors to an online course for the HHT postural riding method.

The BecomeOne Academy is an affordable long-term support program to take any rider through the steps of building the skills to connect with the horse in the truly harmonious balance of postural engagement.

I'll give you more details in a future newsletter, but I'm really exited about this opportunity to make my riding method more available to those of you who are looking for real answers to finding oneness with your horse.

You can find out more about the BecomeOne Academy here: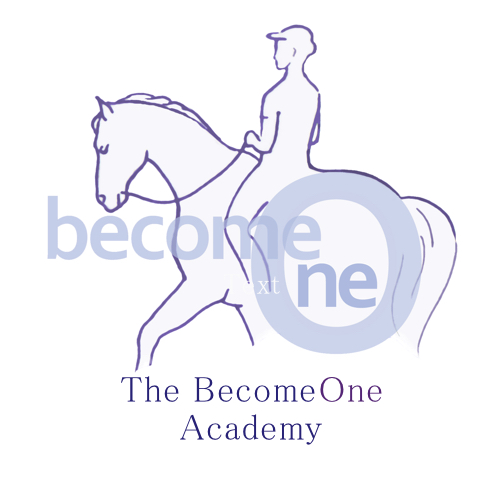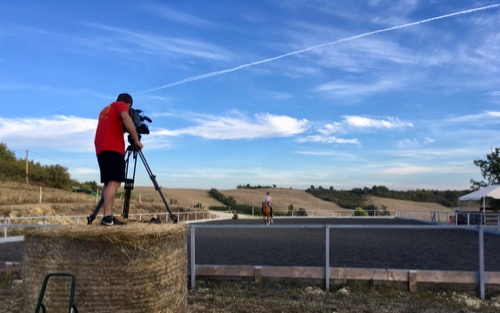 Filming last autumn for the tutorials that will be part of the BecomeOne Academy program.

---
Farewell Tali.
We were very sad to lose Tali just before the winter. He was the gentleman of the herd, but at the age of 24 his time had come to move on.

Considering we though we might lose him 10 years ago, when he went through a healing crisis, it was a tribute to his strong nature that he pulled through to live out the many happy years of his retirement.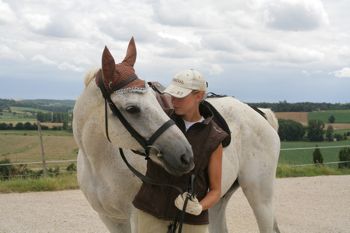 Wonderful Tali who taught me so much.
Tali's story

Tali's close partner Ca-Va was clearly in mourning after his death, but I had noticed her getting a lot closer to her sister Xas even before he went. I'm sure she would have taken it a lot harder without that relationship to fall back on.
It's another example of how the herd always provides horses with the support they need, even in the face of loss.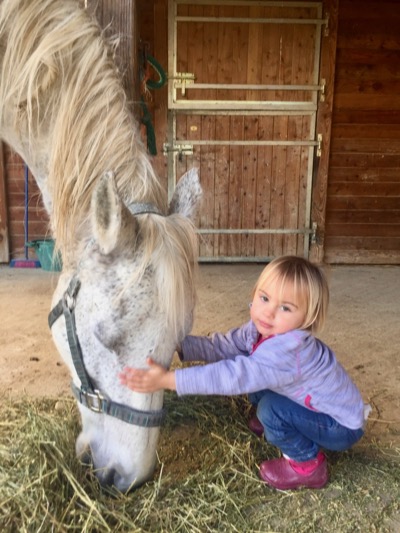 Licia giving Ca-Va a hug :)

---
Teeth back in order!
In November we finally organised a visit from Dan Astle-Carter, Equine Dental Technician from the U.K., to get all of the horses' teeth seen to.

For various reasons we had not had Dan over for several years, and they were definitely in need. It's a good reminder of how important it is to have horses teeth checked at least yearly, and not just by any old dentist or vet either!

You usually know it when you've found someone you really trust, and who gets to the root of any problems you sense may be coming from your horse's mouth.

All of the horses that I'd felt were experiencing blocks in their work related to their mouth turned out to have fairly major issues which Dan corrected, so I'm excited to start up their work again and feel the difference!


---
Licia taking up the reins! ;)
My daughter Licia started riding 'properly' last summer, at the age of 2, and she absolutely loves it!

The nice long lane between the stables and the arena is perfect for letting her have a little ride every time I work a horse, only problem is she doesn't always want to let me take over when we get to the arena!

Needless to say, the horses are all beautifully calm and careful with her :)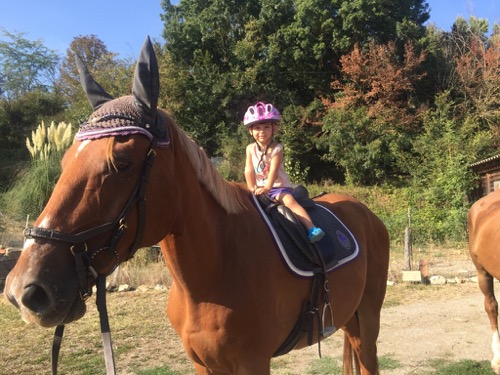 Totally at ease on 17hh Lulu!


---
Winter Break for the Herd
The HHT herd have been enjoying their winter break, at least until the last few weeks when the wind and rain has hit us!

Not that bad weather seems to bother them much at all these days - The shelter has been mostly empty since the summer!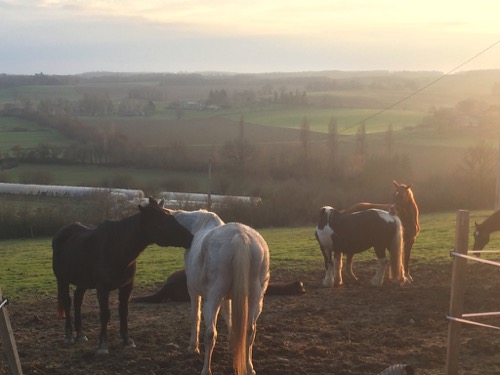 Evening grooming session!


Habi enjoying a snooze at sunset
---

A Bientôt!

Gabrielle Dareau






---
---
---


Enjoy this newsletter? Click here to share it on Facebook:




Happy Horse Training now has Google +1 and Pinterest Pinit buttons! If you enjoy the site, please click to help us share it.


The HHT group on Facebook is growing, join in!

See and share topical news, info and photo's on the Happy Horse Training Facebook group. Once you join you can take part in lively, friendly discussion on subjects relevant to holistic equitation, and make contact with like-minded people all over the world.
Just Click here to go to the HHT group page, and then click on the 'join group' button at the top right of the page.

---
Sharing the Holistic Message
If you enjoy the Happy Horse Training website please help us to share it by clicking on the Facebook 'like' and 'share' buttons that are on each page (you can also share this newsletter by clicking on the symbol above). Any other way you can pass the site on to friends and colleagues, for example via discussion forums, is also greatly appreciated.
You can also sign up to our RSS feed (blog) to be kept up to date with new ideas, pages and other information that we post there. Just click on the box that says 'subscribe to this site' at the left of each page.
The equestrian world is one dominated by traditionalist ideas and conventions, but we would like to help inform the growing minority of horse-owners who want to make their horses happier with progressive and holistic methods.
Happy Horse Training now has over 100 pages exploring many different areas of holistic equitation. Do have a look through our site plan to find the subjects and categories that interest you.


---




Available from HHT:




The Gymnastic Rider eBook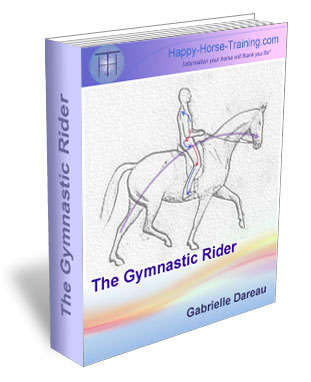 Available exclusively from HHT, a unique and comprehensive guide to practical rider biomechanics. This professionally produced eBook takes the rider through the process of developing their body in the specific way that brings the horse's movement into harmony and balance, without force and constraint.

The information in this book, including over 55 000 words, represents what we would normally pass on in a minimum of 12 specialist lunge lessons, focusing on each part of the position and its influence on the horse, with a value of at least €450. The Gymnastic Rider is available for only €29.99.

Click here for full details, and to download the 15-page introduction to the book for free.




How to Train a Horse Without Force eBook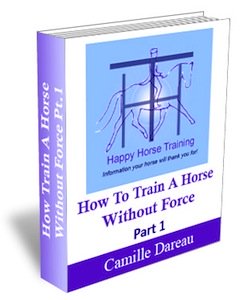 The first part in HHT's Training series, this unusually profound and well-written e-book gives a unique holistic understanding of training horses, from the very first contact with a young horse, through to a thoroughly explained method of lunging, that is beneficial for any horse, not just in preparation for first riding, but at any stage of training.
With your purchase you will receive a free bonus supplement on Horse Trauma - cutting edge insights on this subject that up until now have mostly been applied only to human trauma. This supplement shows how to recognise, avoid and deal with horse trauma, which is much more common that we realise.
These two e-books - How to Train a Horse Without Force and Horse Trauma comprise more than 75 thousand words and are richly illustrated. They are available for only 19.99 Euros (around $26). Click here for more details.





Other HHT Products:
The Simple Seven-Step Natural Trim eBook

Learn how to perform the ideal barefoot trim with this comprehensive how-to guide.


---