The HHT Christmas Quiz Results


And the winner is...
Jo Barreau from France who scored 26 out of 27!
We have decided to offer a second prize to Kathy Knight from Quebec, Canada who gave the second highest score of 24 out of 27, and also contributed her experience of holistic horse keeping.
If Jo and Kathy can contact us to say which eBook they have chosen (either How To Train A Horse Without Force or The 7-step Natural Trim How-To Guide) then we will send you your free links to download the books.
Congratulations to the winners, and thank you to all who participated.


We have written a full explanation of all the answers to the questions here: The Holistic Option: Christmas Quiz Answers
---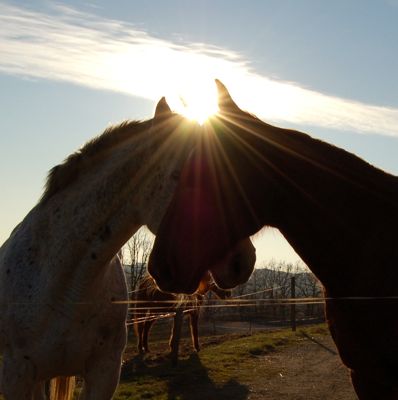 ---
---


Join the HHT group on Facebook!



See and share topical news, info and photo's on the Happy Horse Training Facebook group. Once you join you can take part in lively disscusion on subjects relevant to holistic equitation, and make friends with like-minded people all over the world.

Just Click here to go to the HHT group page, and then click on the 'join group' button at the top right of the page.

---
Sharing the Holistic Message
If you enjoy Happy Horse Training and you find the information on the site useful, please help us to share it by clicking on the Facebook 'like' and 'share' buttons (if you have a fb account) that are on each page. Any other way you can pass the site on to friends and colleagues via, for example, discussion forums, is of course also greatly appreciated.
You can also sign up to our RSS feed (blog) to be kept up to date with new ideas, pages and other information that we post there. Just click on the box that says 'subscribe to this site' at the right of each page.
The equestrian world is one dominated by traditionalist ideas and conventions, but we like to think we can help inform the growing minority of horse-owners who want to make their horses happier with progressive and holistic methods.
Happy Horse Training now has over 100 pages exploring many different areas of holistic equitation. Do have a look through our site plan to find the subjects and categories that interest you.


---
Available from HHT: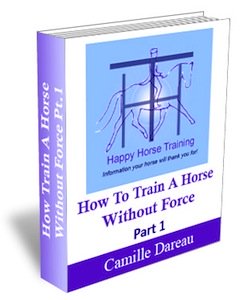 The first part in HHT's Training series: How To Train A Horse Without Force. This quality e-book gives you a unique holistic understanding of training horses, from the very first contact with a young horse, through to a thoroughly explained method of lunging that is beneficial for any horse, not just in preparation for first riding, but at any stage of training.

With your purchase you will receive a free bonus supplement on Horse Trauma - cutting edge insights on this subject that up until now have mostly been applied only to human trauma. This supplement shows how to recognise, avoid and deal with horse trauma, which is much more common that we realise.

These two e-books, comprising more than 75 thousand words and richly illustrated, are available for only 19.99 Euros (around $26). Click here for more details.





Other HHT Products:

The Simple Seven-Step Natural Trim eBook

Learn how to perform the ideal barefoot trim with this comprehensive how-to guide.


---