The Happy Horse Training Christmas Quiz



This month, to celebrate the end-of-year festivities (or should that be the end of the world? ;)) the Whole Horse newsletter takes the form of a competition. Choose your answers to the following nine scenarios out of the options given - A, B or C - based on your genuine opinion of the best course of action to take. The last question is the decider in case of a draw, and gives you the opportunity to share a personal experience, reflection or discovery you have made relating to Holistic Horsemanship. The winner will receive their choice of a free HHT eBook: either The Seven Step Natural Trim or How To Train A Horse Without Force.


1. You take on a horse which comes to you shod, and you remove the shoes (of course :) ). He seems fine, but after a few days he becomes very sore and he can hardly walk.
Do you:
a) Worry that he is in too much pain and put the shoes back on again.
b) Keep him in a stable on rubber matting and a deep bed, and give him some bute for the pain.
c) Put some well-fitted hoof boots on with padding, and put him out with a laid-back companion.



2. You are working with a young horse in the arena and something spooks her in the neighboring trees.
Do you:
a) Let her stop and look for a moment but decide there is nothing there and she must pay attention to you, so you push her forward again.
b) Let her stop and only ask her to go on again when she relaxes and flickers an ear back to you.
c) Push her forward briskly turning her head away from the trees and make her concentrate on her work.



3. You have a mare with a six month old foal at foot going into the winter, and your mare is in foal again.
Do You:
a) Leave them alone.
b) Separate the foal from the mare and put him in a safe stable where he can't hurt himself until he is weaned. The mare respects the fences so she stays out. They are out of hearing range of each other.
c) Begin to take the mare out for short sessions away from her foal, and, when he is coping better, find another youngster to put him in with and separate them a few fields away from each other.


4. You are entered for an important qualifier class at a show and your intuition tells you that your horse feels slightly dull and off-colour in the collecting ring.
Do You:
a) Compete him anyway
b) Take him back home
c) Arrange to push back your turn and give him ten minutes to rest


5. You are at a dressage clinic with a big name rider and judge. He asks to ride your horse and begins to get into an argument with her.
Do You:
a) Defer to the trainers greater experience and let him sort your horse out.
b) Feel upset about your horse, and when the trainer gets off her you cancel the remaining lessons and take her straight home.
c) Insist that he stops riding her straight away.


6. You rescue a half-starved youngster, and after a few days you worry about his parasitic load.
Do You:
a) Increase his feeding gradually and look into herbal support for his liver and digestive system.
b) Give him a decent dose of de-worming paste from the vet.
c) Wait until he has regained some condition and his gut is healthier then give him a de-worming paste from the vet.


7. Your horse begins to go very lame over a few days. He is lying down and obviously in pain. You suspect an abscess in the foot because there is some generalised swelling and heat in one leg and the foot, but no sign of injury. Your hoof trimmer agrees.
Do You:
a) Treat with herbs or homeopathically for the pain and leave the foot alone until the abscess bursts out itself.
b) Get your hoof trimmer to have a scrape and see if he/she can find a likely crack, then poultice the foot.
c) Call the Vet out to give him antibiotics and anti-inflammatory drugs as well as cut a good part of his sole away. You fill in the hole afterwards with some kind of hoof repair resin, bandage it all up and keep him in for a few weeks.


8. You are schooling a horse for a friend. When you lead him in from the field he continually pushes right into your space.
Do You:
a) Bring him in with a bridle next time and keeping a good hold of him, teaching him to respect you with a good tap on the shoulder with a stick.
b) Let him graze on the edges a bit to settle him down.
c) Stay calm and push him gently and firmly out of your space until he yields to the pressure and becomes calmer and more willing to listen to you.



9. You are trying out a new saddle in the arena one day, and when you get on your horse she feels like an unexploded bomb
Do You:
a) Stay very quiet and, keeping your aids to a minimum, gently ask her to move forward
b) Get off immediately and after checking the fit of the saddle again see how she behaves on the lunge before sitting on her again.
c) Push her on quickly and firmly, keeping a good steady rein contact, and give her a tap with the whip if she ignores your leg.



10. This question is your chance to tell us why you should win the prize for the best Holistic Horse Owner in 200 words or less. Please describe for us about a personal experience, a reflection or a discovery you have made relating to Holistic Horsemanship. This could be about horse care, management, training or riding or a combination of these areas; but the emphasis is on your holistic understanding.

To answer this question, just click here and fill in the form with your contribution. Adding relevant photos is a bonus, but not compulsory for a chance of winning.


To enter the quiz, send us an e-mail with a list of the question numbers and the corresponding letter of the answers you have chosen. Make sure you leave the same name on the e-mail as on your contribution for no.10 so that we can identify you.
The winner will receive the link for their free eBook in an e-mail sent to this address. Have fun, and...
A Very Happy Christmas and New Year from Happy Horse Training!


---


Join the HHT group on Facebook!

See and share topical news, info and photo's on the Happy Horse Training Facebook group. Once you join you can take part in lively discussion on subjects relevant to holistic equitation, and make friends with like-minded people all over the world.
Just Click here to go to the HHT group page, and then click on the 'join group' button at the top right of the page.

---
Sharing the Holistic Message
If you enjoy Happy Horse Training and you find the information on the site useful, please help us to share it by clicking on the Facebook 'like' and 'share' buttons (if you have a fb account) that are on each page. Any other way you can pass the site on to friends and colleagues via, for example, discussion forums, is of course also greatly appreciated.
You can also sign up to our RSS feed (blog) to be kept up to date with new ideas, pages and other information that we post there. Just click on the box that says 'subscribe to this site' at the right of each page.
The equestrian world is one dominated by traditionalist ideas and conventions, but we like to think we can help inform the growing minority of horse-owners who want to make their horses happier with progressive and holistic methods.
Happy Horse Training now has over 100 pages exploring many different areas of holistic equitation. Do have a look through our site plan to find the subjects and categories that interest you.




Join the HHT group on Facebook
See and share topical info, news, video's and photo's, and take part in lively discussions.
Click here to go to the HHT group and then click on the 'join group' button.



---
Available from HHT: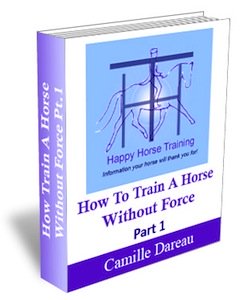 The first part in HHT's Training series: How To Train A Horse Without Force. This quality e-book gives you a unique holistic understanding of training horses, from the very first contact with a young horse, through to a thoroughly explained method of lunging that is beneficial for any horse, not just in preparation for first riding, but at any stage of training.

With your purchase you will receive a free bonus supplement on Horse Trauma - cutting edge insights on this subject that up until now have mostly been applied only to human trauma. This supplement shows how to recognise, avoid and deal with horse trauma, which is much more common that we realise.

These two e-books, comprising more than 75 thousand words and richly illustrated, are available for only 19.99 Euros (around $26). Click here for more details.





Other HHT Products:

The Simple Seven-Step Natural Trim eBook

Learn how to perform the ideal barefoot trim with this comprehensive how-to guide.


---