Happy Horse Training:
a holistic approach to horse care, training and riding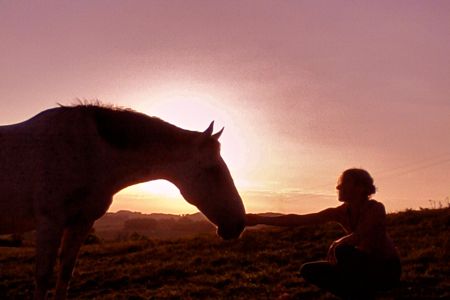 What is Happy Horse Training About?


Mankind has shared his history with the horse for millennia, making use of his strength, speed and endurance, and borrowing his beauty and elegance.
We owe it to the horse to give him back the care and lifestyle which respect his wild origins, as well as a way of riding and training that enhances his beauty instead of tarnishing it.
Happy Horse Training offers a truly holistic approach to our interaction with horses, encompassing all pieces of the puzzle to create a positive circle of well-being and performance. We are amongst the few in the horseworld to bridge the gap between natural horse care and training based on gymnastic principles.
This website provides over 100 in-depth, well-written articles to help horse-owners combine natural care with good riding and training. We are quickly becoming one of the most extensive internet resources for intelligent holistic equitation.

Outlined below are the main sections of the site, but have a look at the site plan to see a full list of our pages on many diverse subjects.

Happy Horse Training is founded by sisters Camille and Gabrielle Dareau, based in the South-West of France. To find out about us, click here: About Us


What is real dressage riding?
Real dressage is simply being passionate about improving your horse's way of going, and discovering the wonderful unity that is possible between horse and rider.
You don't have to be a dressage enthusiast for our information to be relevant to your riding. No matter what you do with your horse, getting the basics of your riding right will make a huge difference to your enjoyment of your horse… and to your horse's enjoyment of being ridden!
In our dressage section you will discover insights about the rider's fundamental interaction with the horse that even top dressage trainers misunderstand.
Good horse training doesn't have to be a mystery…
Horse training can be a daunting prospect. Whether starting with a youngster or simply making progress with an older horse, there are so many different techniques and training philosophies to consider.
In fact there are universal principles to all good training that need to be established with any horse. What if you could feel confident in knowing what you are trying to achieve with your horse and how with a step-by-step process? To not only get your horse to use himself in the right way but at the same time to make him more relaxed and confident in you?
There's nothing like the satisfaction of making a real transformation to your horse through good training
A natural approach to horse health
If you're interested in finding natural or holistic solutions to the problems that often come up with horses,
solutions that get to the source of the problem instead of just treating the symptoms, then you will find a lot of help here. From good feeding to resolving physical problems to giving the horse a healthy lifestyle, it all comes together to make a happy horse that's ready for work.



Natural hoof care: no hoof, no horse!
More and more horse owners are coming to realize that shoeing is a harmful practice, in fact its damaging effects extend well beyond the hoof itself.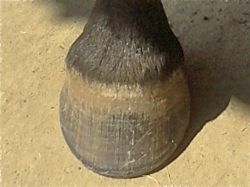 Barefoot hoof care allows a horse's hooves to function in the way nature intended as part of his all-round health.
Being passionate about the way horses move through dressage, we've come to realize what a fundamental role naturally healthy hooves have in supple movement.
Energy therapy - healing for horse and rider
There is a fundamental energetic intelligence in all living beings which regulates the healthy functioning of the body. Problems that come up with horses both physically and behaviourally always have a source in an energetic malfunction.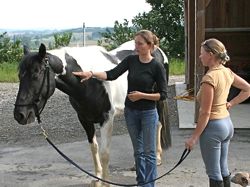 Equally riders are often held back by blocks that prevent their body from doing what it needs to in order to connect properly with the horse.
Developing an awareness of this is a skill accessible to anyone - an extra sense that we all possess but rarely know how to use. Discover a unique course available to download that will open up this amazing realm, the basis of all holistic therapies.
Happy Horse Training: A Holistic Approach
With so many specialist fields within equestrianism, and specialist fields within those, it can be easy to forget the whole picture. The amazing feeling of being as one with your horse depends not only on good riding, but on many factors that all contribute to making the horse happy and comfortable in himself.

That's why on this site you'll find both sophisticated in-depth information on certain subjects, and a wide range of diverse topics that relate to the horse's well-being. It is all knowledge that we have come to through our own experience of seeking the highest quality of life and performance with our own horses.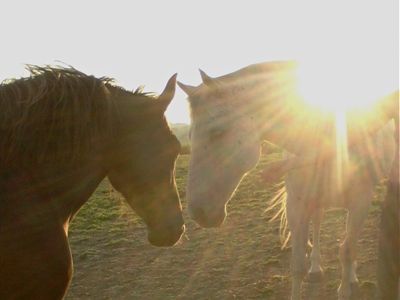 The Happy Horse Training Blog keeps you up to date with all the additions and changes to the happy-horse-training.com web site. Subscribe here.
Our free monthly newsletter offering useful insights into riding, training, and holistic horse management
Happy Horse Training Products include exclusive, high-quality educational tools, founded on our holistic vision of horse training, riding and care.
HHT audio tapes are unique learning tools, which allow you to apply intelligent and effective techniques by listening to clear instructions as you work with your horse.
See whats going on in the Happy Horse Training facebook group!
If you would like to support HHT's vocational work towards the well-being of horses and the understanding of riding and training them in a harmonious and meaningful way, you can make a donation here.
A plan of the Happy Horse Training site
Holistic horse keeping is the way to ensure your horse's health, happiness and performance because everything must go together for true success in any one of these areas.
Even if your interest is not confined to dressage riding in true unity with the horse is something accessible to anyone who wants to find a better way with their horse than force and constraint
Training horses well is not about conditioned responses, it's about creating a beautiful physical connection that naturally wins their trust
A collection of dressage articles that address the reality of riding and training a horse without force, constraint and superficial appearances.
Rider Health is just as important as Horse Health. The more we can develop our postural musculature and the suppleness of our joints to improve our own straightness, the more we are in a position to d
HHT's dressage diagrams give unique visual clarity to many important aspects of riding and training horses.
Photographs of us and students working our horses
Horse Basics is the section of our website for anyone searching for simple, straightforward information about holistic horse care and training, which is the result of years of real experience.
Any horse owner can learn natural horse hoof care and allow their horse's feet to function as they should without the damaging effects of shoeing
Horse health is essential for wellbeing and performance, but it takes a combination of many different care and management solutions to make a horse naturally healthy, inside and out
Observing domestic horses herd behavior is fascinating and can give us valuable insights into the way our horses view each other and life in general.
Our horse healing philosophy combines providing the best individual care therapeutically and nutritionally, with as natural a lifestyle as possible and a careful, consistent gymnastic training.
Horse Stories introduces you to the detailed biographies of many of the different horses we have worked with and learned from over the years.
This is where we share the progress of our two beautiful dressage warmbloods, who we have raised from the age of six months in a totally holistic way.
The Happy Horse Cartoon is a humorous look at the lives of horses, seen from their point of view. It is also firmly founded in the philosophy of Happy Horse Training.
In our passion for the art of dressage as a pure gymnastic discipline, we have taken the unusual approach of studying riding solely for its own sake with no other agenda, either competitive or commerc
Awareness of spiritual evolution when working with horses gives us the opportunity to remember that we are one part of a whole system of life, and that all beings are essentially one
Some of the feedback we have received on our riding instruction and work with horses
you are welcome to contact us at happy-horse-training.com
The Happy Horse Training Privacy Policy outlines the types of personal information we receive and collect when you use this site, as well as some of the steps we take to safeguard information.
HHT's Holistic Horse Training clinics are an opportunity for us to share our understanding of holistic equitation and gymnastic riding directly with riders and their own horses.