Rider Communication: Relating To Your Horse with Integrity


The rider's communication with the horse often boils down to nothing more than domination and conditioned responses. True communication between rider and horse has much more to offer.


The Structure of Rider Communication
Rider communication is what riding a horse is all about. It is our choice to decide we have the right to control another species of animal - which is probably an important thing to think about, rather than always taking it for granted. Admitting that we are taking this liberty means we are more likely to take responsibility for it. Horses don't choose to be ridden, and it is not up to them to make things go well. There are certainly many angelic horses who do just that, especially for children, and that proves what generous beings they are.
To understand fully what is going on when we ride, it is important to look beyond ourselves. When we do anything, we have a personal perspective on our own performance. Sometimes the things we do in life show us very clearly the success of our performance, for example when playing golf - it's hard to deny it if you can't even hit the ball, let alone aim it accurately! Unfortunately when it comes to riding, it's not quite so obvious how well our perception of our posture and aiding ability relates to our true ability. This is further complicated by the fact that there are numerous different ideologies when it comes to riding. When we ride we can usually feel what we want to achieve, and how we want to achieve it - but how do we know if this genuine, or if it is fair on the horse we're riding? After all, if we can't even be sure of the accuracy of our own performance, how can we hope to judge what a horse can reasonably be asked to do?
In order to become a good rider, both technically and intuitively, we have to take on board the complexity of the task, and try to stay honest with ourselves about our ability. Looking for what we have to improve openly is far more of an achievement than hiding from our own scrutiny.
Successful rider communication is having correctly trained your muscle memory to perform according to absolute principles such as straightness and balance. This technical accomplishment will then have both tuned and liberated you intuition which is indispensable in each individual moment with a horse. In other words, to be able to feel the accurately of both what is happening and what you have to do to progress your horse's training, you have to achieve a riding posture which is dynamically correct. The fact that every horse is different, and even the same horse is different to some degree every day, only makes this achievement more important.
The fact that there is so much variation in horse and rider combinations - and that it is not so easy to scrutinize a rider's performance separately from the horse - unfortunately seems to lead to more riders disseminating their faults than highlighting them. It is probably true that if you could buy a golf club which would attract the ball and send it closer to the hole, then many people would choose to buy it rather than struggle away with their own swing! It may put the ball in the hole, however it doesn't give you the real physical feeling of connection when you hit the ball just right as a result of your own personal achievement.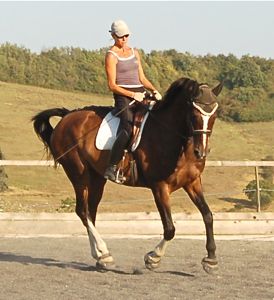 Practically, the best ways to develop your riding ability are to study photographs and videos, on as many different horses as possible, and listen to someone you trust who can observe.
Sadly, the art of good riding instruction seems to have been abandoned by many in favor of 'Trainers' who will conspicuously ignore any reference to the actual deportment of the rider.





The Composition Of Rider Communication
The composition of riding is the actual language between rider and horse. In a sense the composition is like a glue which connects the two postural structures of rider and horse together until they are so bonded that the language becomes internalized as the two structures are functioning as one being. Then it is less like a conversation and more like a state of consciousness because there is no longer the need to join the two structures together.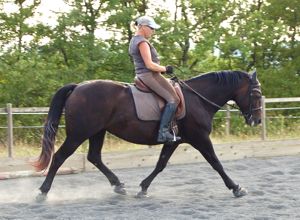 The process of joining horse and rider can be thought of as the use of signals by the rider to alert the horse to their presence, and simultaneously the form they are presenting i.e balanced and straight. These signals will be heard by the horse who will then adapt themselves to this straightness and balance, and the new horse - rider partnership structure is born. The importance of technical correctness of the riders posture (see Rider Biomechanics) has been discussed, and it is obvious that if a horse is to become straight by means of conforming himself to the riders posture, then the rider must be reasonably straight or the horse will remain crooked and the fusion will not result.
The other aspect of rider communication is the way the rider handles the 'signals' they give to the horse. People have learned how to dominate horses in order to achieve an end result, but because this domination often ends up with the horse in a state of tension, it becomes counter-productive, because the horse cannot then adapt, learn and grow, thus improving his quality of movement and self carriage (see: Abused Horses).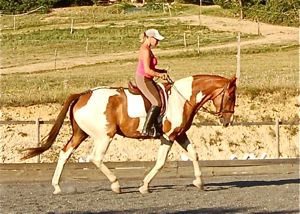 How is it possible to engage with a horse without domination then - especially a horse who would rather be anywhere than in a riding arena? First of all a rider must develop their sensitivity to the horses boundaries and secondly they must develop their ability to signal to the horse in a way that respects these boundaries. The secret is not only to respect the boundaries, but to support them. This is the basis of good rider communication.

What happens When Boundaries are Supported not Forced?
Rider communication takes on a new dimension of sophistication when the horse's needs are listened to and supported. Instead of the horse becoming more and more wound-up because he either can't physically give us what we are asking for, or because we are causing him meaningless or unfair discomfort and pain, he will enjoy the process of problem solving and empowerment with his rider.
Sometimes training can involve a certain level of discomfort for the horse, just like that which we feel in ourselves when riding.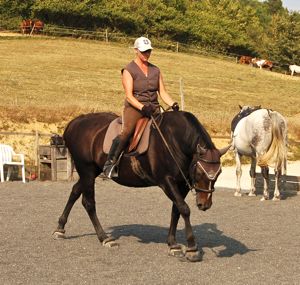 We can always stop or reduce the demands we make on ourselves however, and pushing through our own boundaries is no more beneficial for us than it is for our horse. In general horses are very intelligent when it comes to physical sensation, and they can understand the difference between 'good pain' when weak muscles are stretching and working etc., and the dead-end kind of pain when their body is being forced and damaged. The more sensitive rider communication can become, and the more skilled at supporting the horse's boundaries they are, the less these pressure situations will arise. Tackling physical limitations head-on doesn't tend to yield the best results.



---
Relevant pages on Happy Horse Training that may interest you:
Training Horses: the whole way!
Rider Biomechanics: the key to unlocking the horse
The Importance of the Posture in Riding
How To Train Horses

---
Return from Rider Communication to Happy Horse Training Home